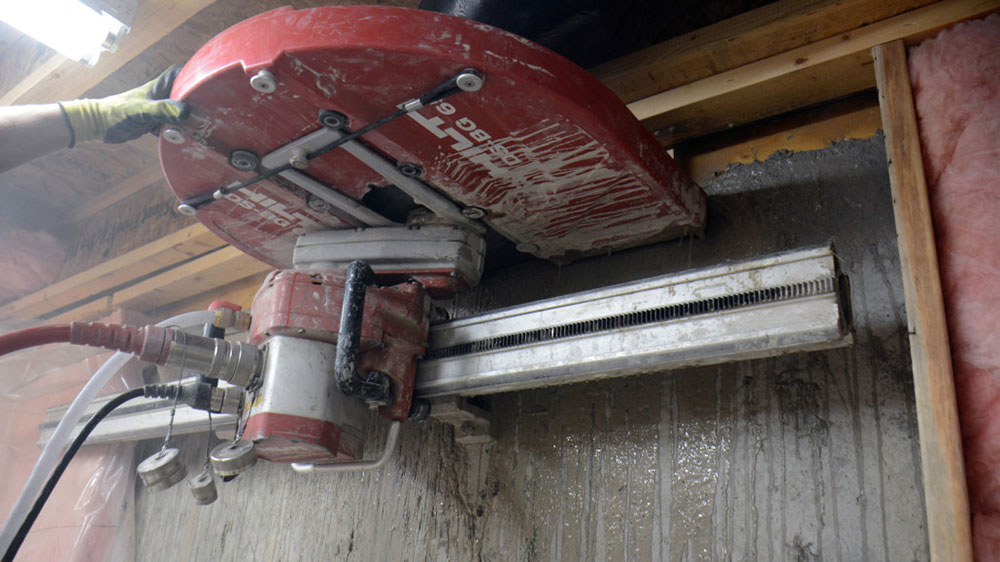 It's been a while since our last introduction blog post. In that one, we discussed core drilling. In this one, we're going to discuss wall sawing in enough detail that customers can feel prepared for the type of work we will be doing.
None of these introductions are intended to be complete, and they couldn't really be. All of these types of equipment are quite complex and have a variety of uses. However, we will endeavor here to explain the use of the wall saw in plain terms that should help newer customers to understand the work.
A wall saw uses a motor (either electric or hydraulic) attached to a traditional circular blade. The motor itself is mounted to a geared track along which it travels. The blade connected to the motor is attached through an arm that can orbit the body of the motor. In this way, a wall saw has access to two primary motions. First, it can travel along the track it is mounted to. This track is attached parallel to a concrete surface and determines the available cutting dimensions for the wall saw. Second, it moves the blade position by moving its arm causing the blade to plunge into and rise out of the surface the track is mounted to.
When the saw is powered on the blade begins to spin. The blade has segmented teeth like a wood blade, except these teeth are impregnated with diamonds and work by friction, not removal. The saw can then be moved using the motor and track to the desired position where the blade arm can then plunge into the surface and begin cutting. An operator controls hows quickly it penetrates the material it's cutting to avoid overworking the saw or over-penetrating the material. The blade is lubricated and cooled with water during this process. Newer units allow the use of remote controls to work away from the saw while it is cutting.
All of this equipment allows a wall saw to be mounted to nearly any surface and then cut openings of almost any size. This is what makes the wall saw the ideal choice for windows and doors, but there are also many other options where other pieces of equipment just can't reliably be used.
That's it for an introduction to wall sawing. Look forward to an article on what to expect when wall sawing is being performed on your commercial or personal property.